Basoak
BasaburuaMTB • Trail BE02 • Enduro
Basoak, a magnificent trail that crosses beautiful beech forests and joins two good downhill singletracks.

The Basoak trail starts in the village of Beruete. We take the road in the direction of the wind farm, to tackle the first climb of the day, which becomes bearable up to the Karrille fountain. From here, a few hard meters along a cement road to immediately connect with the dirt road that crosses the entire slope of Kosmendi mountain. We will go out again to the dirt road that takes us to the wind farm, and we will follow it to the Orin fountain.
From here begins the first descent of the day, Santa Engrazia. A descent that we will rarely find dry, since it is an area with a lot of humidity, but when we do, we will be able to go down at high speed. The first part is quite broken and with good ruts, so we will have to ride carefully. From the moment we take the detour marked with a stone milestone, the singletrack becomes less defined, very fun, fast and with some stones. In the middle of the descent we will have a section of pedaling that will make us sweat the hell out, to reconnect with another very fast singletrack with natural jumps.
Once down, we will have a piece of dirt road to recover strength. Then begins a long climb, bearable removing some other section. Beautiful beech forests that we will cross through forest tracks and singeltracks. There is some technical bit, but in general it goes up quite well.
After reaching the fields of Iontza, we will continue up the dirt road to San Pablo, until we enter a beautiful beech forest that will transport us to a movie setting. From here begins the second descent of the day: Olentzero. Varied and very fun descent with a lot of curves, some jumps, fast and technical zones, etc. We will arrive downstairs with a good smile!
Finally, we will only have to return to Beruete, to end this trip through our forests.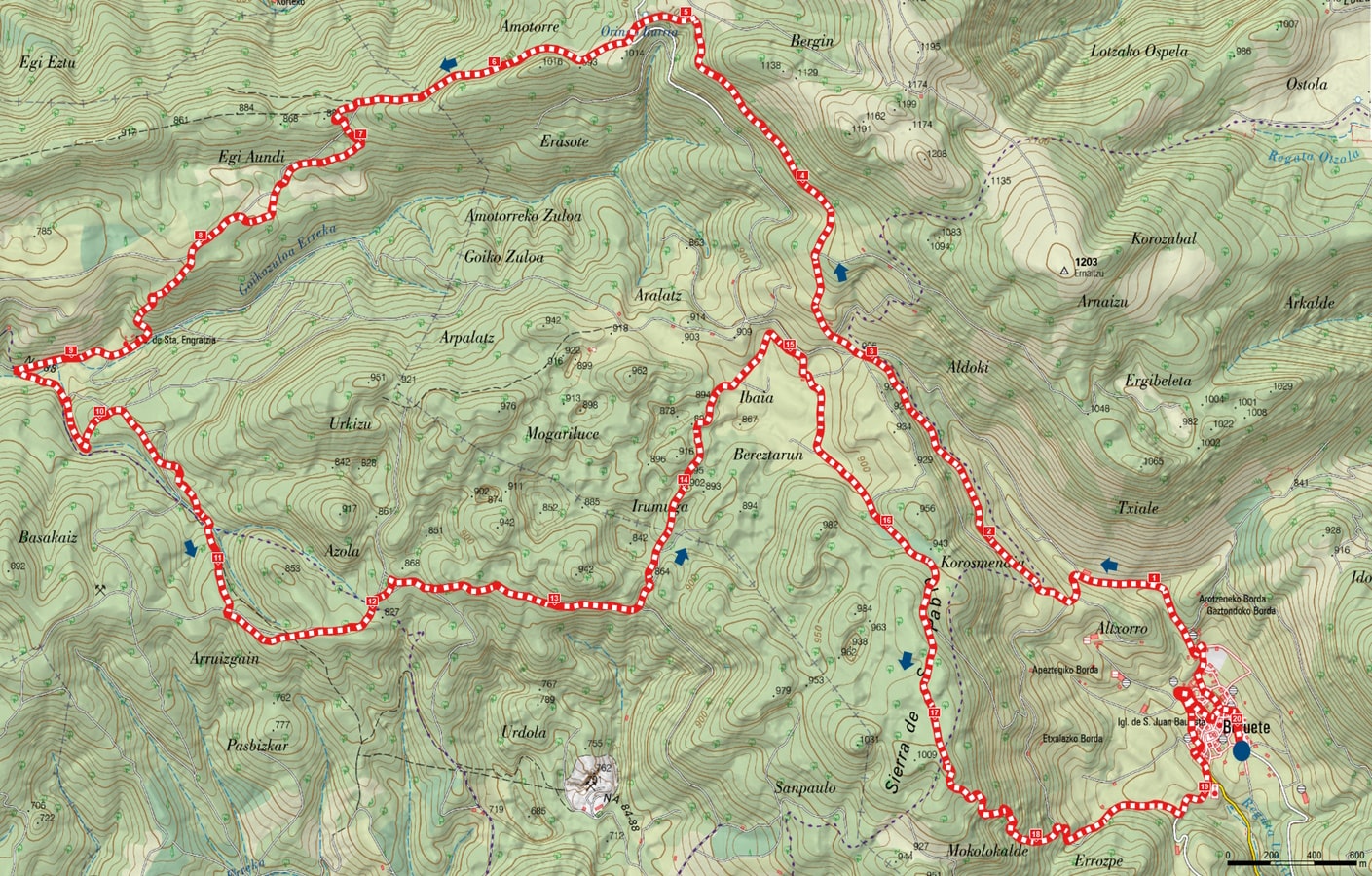 Dirt Road | Trail (10.6 Km)

Warning! Special attention to humidity in Santa Engrazia. In autumn it is spectacular!
Respeta las señalizaciones y NO atajes los senderos