Akelarre
BasaburuaMTB • Trail BE03 • Enduro
An Akelarre is the meeting of Mari and the sorginak (witches) around the Akerbeltz, which can be an evil act (if spells and enchantments are made against someone) or an act that is carried out in favor of, in healing, or in protection of someone.

Starting from Beruete, there will be no time to complain, since we start the Akelarre route with a not very long climb but with hard ramps of more than 25%. When we reach Kaateko Lepoa, we will take the track that goes to the right to continue overcoming a demanding climb until we reach the entrance to Iratxo. Flow descent mostly through beech woods with a lot of curves, some natural falls… and a more twisty finish among chestnut trees. So funny.
By cement track we will link the town of Arrarats, with the possibility of supplying ourselves with water. From here, hard ramps to the fields of Otxola, a beautiful place where the Otxola river is born, hence its name. In the small stone cabin we will also have water.
From here, a beautiful climb up Ernaitzu mountain using the Aiskueta singletrack, a spectacular section between stones and crossing a hillside where the Gentiles lay. The singletrack continues up and up until it reaches the Sobresate fence. From here, we will continue going up the north face of Ernaitzu mountain, improvising some "Z"-s to avoid the steep slope.
The Ernaitzu singletrack begins from the top, with impressive 360º views. Turning to the left we will begin the descent, with a technical start until we reach the singletrack that crosses the field. We will leave this singletrack without reaching the end, to cross the field and link up with another singletrack. Cross the fence and we will take the fun section of the descent…curves, some natural jump…very fast.
The descent leaves us again in Kaateko Lepoa. From here we will go up the first ascent again, but this time to the top, to take the Akerbeltz descent. Heavy descent, with technical steps, which softens as we go down… but not much. After finishing the singletrack, all that remains is to return to the starting point.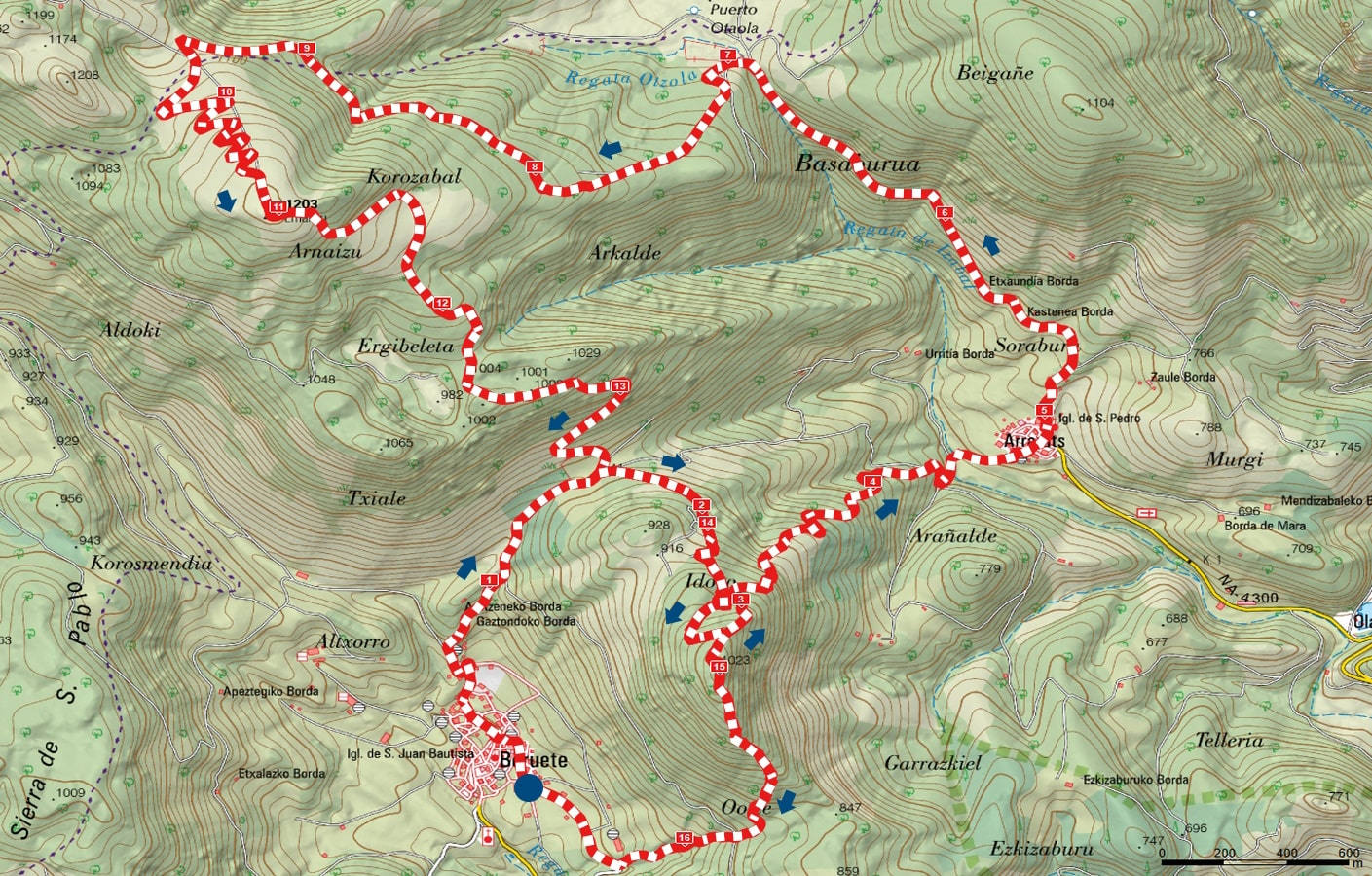 Dirt Road | Trail (3.9 Km)

Fountains. In Beruete. Km 4.9 in Arrarats. Km 7, turning aside to the Otxola stone cabin. Km 9.4, after crossing the Sobresate fence.
Respeta las señalizaciones y NO atajes los senderos