Ipar Trails
BasaburuaMTB • Trail BE04 • Enduro
The IparTrails trail joins several fun loop descents, carefully and lovingly cared for so that they are always impeccable.

The start of the IparTtrails trail is at the Jauntsarats sports center, and after a short stretch of trail, we begin with the first climb of the day, towards the Beruete cider mills, through beautiful beech and oak forests. At Erretzeko Borda we will come out onto a plain and out of the forest, a rest that we can take advantage of to appreciate the awesome views that we have behind us.
From here, a hard cement ramp awaits us up to Txaseneko Borda, to then take the dirt road that goes up, which will offer us some very good views towards the Dos Hermanas of Irurtzun and San Miguel of Aralar. Little by little, the path turns into a beautiful singletrack, which gives us access to the Atomiko singletrack. A varied singletrack, with mousetrap, technical, inclined areas, etc. that will make us have a good time.
After reaching the dirt road, instead of crossing it to continue with Atomiko, we will turn left and after passing the quarry, we will ascend a beautiful singletrack until we come to Basajaun. At this point, we can continue along the singletrack to enter a feast of curves and jumps, until we end up on the road between Jauntsarats and Beruete, which we will have to follow for 2.5 km until we get to the town of Beruete.
From Beruete we will take the road that takes us back to the cider houses, to continue climbing hard slopes towards the Oorte area, which will give us access to Baxurde singletrack. This is the first singletrack that was opened from Basaburua MTB back in 2018, and it has undergone several changes as a result of forest cut, so that sometimes it is difficult to follow the trail. To this day, Baxurde joins the final part of Akerbeltz and continues with the easiest part of it.
Once we hit the road, it's time to go up the road again, but this time towards Lauburu, to finish IparTrails, the flow session with a physical, but very fun descent. At the end of it, we will return to the starting point along a beautiful singletrack parallel to the road.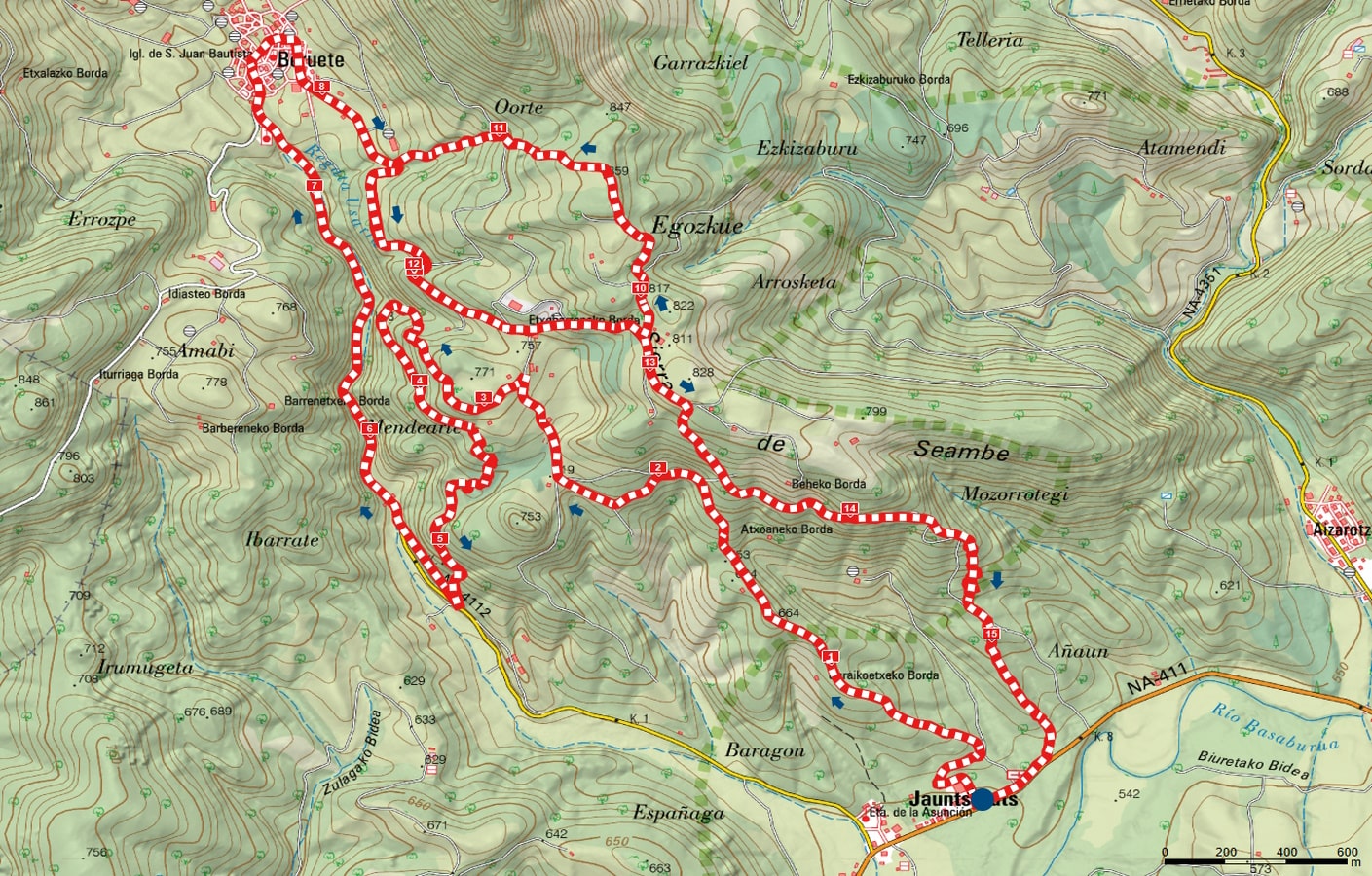 Dirt Road | Trail (3.5 Km)

Warning! There are fountains in the Jauntsarats sports center and in Beruete. Enjoy!
Respeta las señalizaciones y NO atajes los senderos