Basaburua Bira
BasaburuaMTB • Trail BX01 • XC
Basaburua Bira is a trail in which the route crosses several towns in our beautiful valley through fun trails and fast singletracks, being an ideal trail for XC bikes.

The trail begins at the Jauntsarats sports center, and after warming up the first meters by road, we will enter the route of the monumental oaks. A rolling dirt road where you can pick up a lot of speed up to the bridge that crosses the Basaburua river, a narrow pass that we will have a hard time passing the handlebars of the bicycle. As soon as we leave the bridge, we will turn left to enter the Itzalpe trail, buzzard and fun.
We leave and continue along the dirt road until we cross the road and enter the pine forest that will take us to Basati Park, a bike park created for all levels. We will go up the Dragoiaren Kondaira singletrack until the beginning of the descents, and from here we will be able to choose our preferred line (Arbasoak Sup and Arbasoak Inf in this case), we will even be able to repeat loops, although without spending a lot of strength, since we still have a large part of it of the journey ahead.
We leave the bikepark towards Aizarotz, to leave the town aside and continue along the road until the first exit on the left. Technical uphill trail, with large ruts, until we turn off onto the Basandere trail, another ratty and fun singletrack. We go out onto the road, in the direction to Gartzaron, but without reaching it we will take a track that will take us to the Erbiti town. A long ascent awaits us, first by dirt road and then by forest, which will give us access to the Inguma singletrack, a very beautiful descent through beech forests.
We will continue along dirt roads and singletracks with ups and downs, passing under the town of Ihaben and Beramendi, until we get to Udabe. Another long climb in the direction of Beruete, which we can see from the top, to descend towards Jauntsarats, for a very fast route.
Once we have get to the bottom, we will cross the small town of Jauntsarats, until we are close to the starting point. But the trail is not over yet, as we still have the last climb to get to the Lauburu singletrack and finish the trail with the finishing touch going down a very fun singletrack.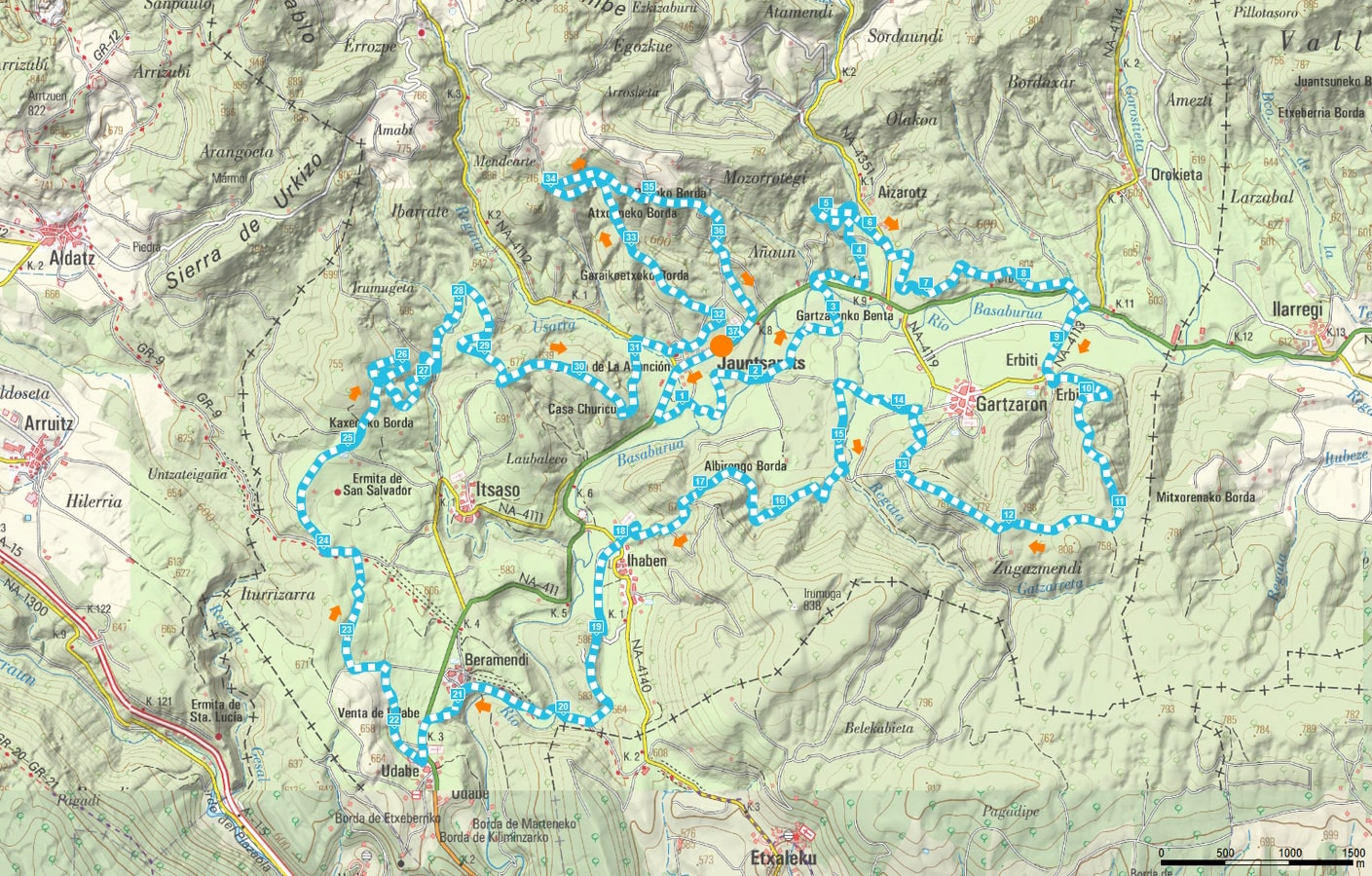 Dirt Road | Trail (21.9 Km)

Warning! No alerts. Enjoy!
Respeta las señalizaciones y NO atajes los senderos